As business travel re-starts after a long pandemic, Pangeanic hails its second international exhibition, introducing its ECO Platform for Natural Language Processing services.
ECO features user-configurable advanced AI (Deep Adaptive Machine Translation, Anonymization, Knowledge Discovery and Named Entity Recognizers), applied to enhance multilingual content delivery, massive multilingual information ingestion, and other text-based services. Pangeanic's ML strength is based on more than +10Bn perfectly aligned parallel segments for machine learning to develop relations among languages, among entities, and build problem-solving NLP solutions. Some of its Use Cases include Spanish Tax Agency AEAT, news agency EFE, US government agency IBWC, and the increasingly popular MAPA anonymization software for public administrations across Europe.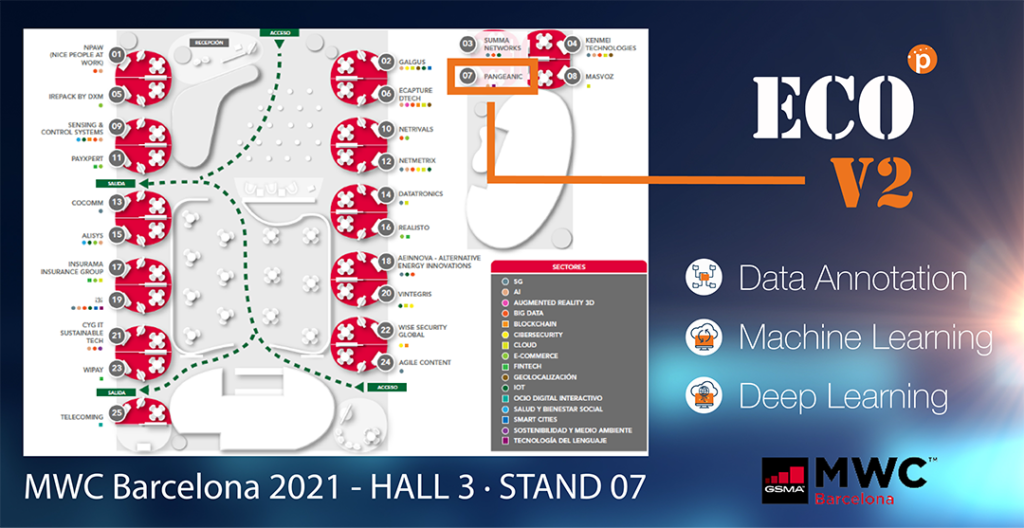 ECO creates an NLP ecosystem where clients can pick and choose one language process such as anonymization /redaction, machine translation or sentiment analysis … or integrate all of them cognitively. Engines are fired up and down as a user chooses to create specific workflows. With enterprise customers in mind, we are looking forward to linking to platforms requiring enhanced NLP services such as Deep Adaptive Machine Translation, Anonymization services, Named Entity Recognizers to extract insights from massive amounts of data …. ECO is the result of years of R&D at Pangeanic. Our AI processes help increase productivity, gather knowledge, reduce costs, and simplify content management, always complying with increasingly relevant privacy laws. - Manuel Herranz, CEO.
Pangeanic technological Division, PangeaMT, provides the ECO platform and API services, offering customized AI-powered cognitive engines that perform language translation with or without PII redaction (anonymization) to meet terminology requirements of unique language domains. Users can choose from pre-built engines or deep-adapt cognitive engines with Pangeanic's proprietary DL technology to shape the engines to their own corporate style and terminology. " And the same goes for specific anonymization / redaction needs" adds Virginia Virino, Sales Director. " Hosting takes place at enterprise-grade security data centers in 3 major jurisdictions: US, Europe, and Asia. On-premises solutions are available for some clients who are very concerned with privacy, and would like to run or create private AI environments for multilingual data processing". Manuel Herranz will also present a talk about ECO and the importance of data as the fuel of AI – the new gold of the 21 st century economies. " However, little attention is paid to data sourcing in AI strategies" says Manuel. " Some companies have based their business model in obtaining free data from users and citizens to build their own AI and prediction offerings. This is increasingly no longer desirable. GDPR requires a process of encrypting or removing personal data or personally identifiable data in order to protect private or sensitive information from data sets so that the details of citizens, users and consumers can no longer be identified directly or indirectly." Manuel will explain how this is a direct challenge to many national and cross-national organizations in Europe as they also need to comply with Open Data and Transparency policies and mandates. Moreover, it opens the field to a new "data economy".
Manuel Herranz will introduce Pangeanic's neural machine translation developments and its long-standing policy to make post-editing mainstream...
Read More