Many businesses (and technical translation companies handling many languages are no exception) fail when it comes to writing marketing texts. How can that be it possible? Shouldn't technical translation companies and translation services in general be aware of the dangers of (multilingual) publishing? In this article I'd like to look at some typical mistakes people often make when writing marketing texts. I would like to offer some tips for writing good marketing material, particularly for digital marketing, because information on your website is your presentation card nowadays. Let's look at how your online and printed promotional material can be what you want it to be: fresh, relevant and engaging!
1. Make It Interesting - good marketing material has to sell!
Can you think of anything more boring and irrelevant than reading marketing material and that is full of self-promotion? Where's the fun in reading how wonderful someone else's job is? Out of the 5 tips for writing marketing material, the number one is that it has to be readable, even attractive and also written "for the rest of us" even if it is about technical translations of power generation systems (OK, that link is just short news from 2003, not particularly sexy marketing). But if your sentences are too long to read and you don't use subheadings to guide the reader, they will feel lost and are going to lose interest very quickly. It is always helpful to have somebody who is really interested in your product write your marketing material. Testimonials are priceless: their enthusiasm and knowledge will shine through, plus you are showing happy clients, a powerful reason to attract even more clients. This is called traction. Ask for a short testimonial, and if they don't express themselves in the best English, don't worry, it can always be checked over later. And people always like being mentioned if it also means a referral for their company.
2. Speak Good English
When you are writing marketing texts, it is paramount to carefully check and proofread carefully every paragraph before going public. This was true in the old "paper" days and it is as much so now when dealing with digital media. Who likes to read news, an article or brochure full of bad grammar and spelling mistakes? Readers will lose confidence in you and your processes. [caption id="attachment_2031" align="alignright" width="168"]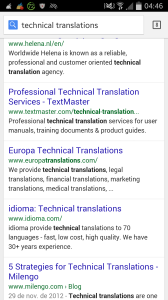 A technical translation company offering "tanslations"[/caption] And this is also true for translation processes. Think about it, they are just like publications. If you're not fully confident or, like me, you are not a native speaker, seek an experienced proof-reader to go through your documents. Translators often make excellent proof-readers. .
3. Be customer-centric: clients come first
Let's face it, only lovers enjoy hearing other people talk about themselves. If your marketing material just talks about how great your products and services are but not how you are going to help them… readers are going to get tired pretty quickly. You shop around for offers online and compare prices and opinions. Don't you think visitors to your website will check what your competitors do and what users say about you? If readers are going to invest some minutes of their time on your site, they will want a unique experience. If you are writing marketing texts about your products, readers will expect facts and figures, use cases, numbers and why dealing with you is going to benefit them over dealing with the competition. Writing about your experience is fine, as it proves expertise in your area of knowledge, but boasting is another matter. Keep texts factual. Try to put yourself in the client's shoes.
4. Contact
Potential customers must find it easy to get hold of you quickly. A contact form must be nearby on every page of your website. Put relevant contacts with a public photo in your marketing material. Who doesn't like to see a face behind the email or telephone number? People like to deal with people, not with anonymous email addresses. A company website showing a strong team where each member adds a skill is onto a winning start. [caption id="attachment_4112" align="alignright" width="300"]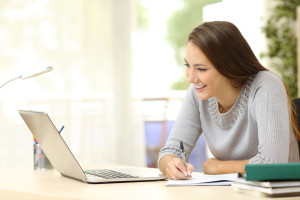 Copyright: antonioguillem / 123RF [/caption] So direct telephone numbers and direct email addresses are a plus. When customers engage with you on social media, be as responsive as (hopefully) your website. Engaging regularly with existing clients will bring recurrent orders as you will be seen as a source of relevant information and knowledge. Target customers and leads will come to your site because you will have information ready for them, and through interaction, you will get to know what they prefer.
5. Engagement
Never forget to point your audience towards relevant data sources and related content – even if it provides a conflicting opinion or point of view. Contact and subscription channels must be easy (check our blog for instance). My suggestion is an option to subscribe to all your online content, and clear links to all the social media platforms you use. If your client is a priority from the moment you start and from the moment they land on your website and they begin to deal with you, you have taken your first step to gain their trust, confidence and respect… and hopefully more business in the future!