Being a freelance translator means the whole world is your oyster. The beauty of self-employed translation is that you can activate your "out of office" email response permanently and have full control over your location and the final say over your rates and workload. Translators have a particular advantage and ease when it comes to moving to a new country due to their language skills and ability to adapt and respond to changing work circumstances. But what are the best countries for freelancers to work?
What are your relocation requirements?
You must plan ahead before moving abroad and do some research whether you are heading for a permanent relocation or a temporary stay to experience a new culture. The same rule applies if you are considering immigrating to a country with a high income tax threshold. We have created a checklist with examples of factors you need to take into account during the first few months of your stay abroad.
Know your residency and visa requirements
Learn the taxation system for your home country
Sort out your medical insurance and healthcare arrangements
Start your financial planning including bank accounts and other investments
The best countries to work freelance as a translator
Choosing the best countries to work freelance can be dependent on the factors mentioned above, but once you have a good understanding of these procedures you can have a clearer image of the location you want to make your new home. Here are ideas of the most wonderful countries to be in as you indulge in your translation action.
Thailand: Thailand is one of the best countries for freelancers in the world to live at low cost. One of the most useful aspects of the location-independent lifestyle is geoarbitrage. The concept of geoarbitrage basically means making the most of the differences in currencies and cost of living to enjoy a higher quality of life. Thailand seems to be the perfect example of that and working as a freelance translator can be the perfect beginning. Jetting to the other side of the world and being surrounded by paradisiacal scenes will undoubtedly give you the inspiration to conjure up the best translations.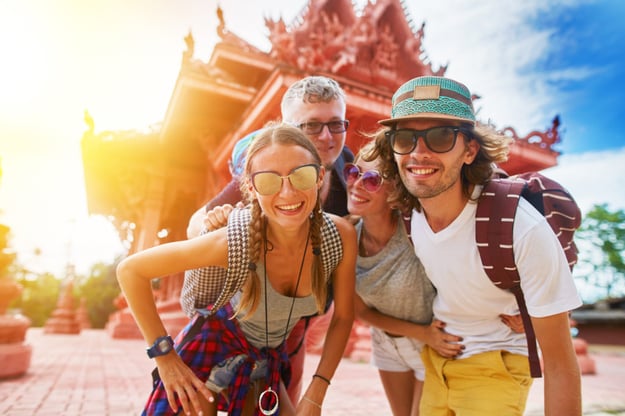 Thailand is one of the best countries for freelancers
Mexico: Self-employed translators flock to one place in Central America: Mexico City. This city attracts freelancers who spend their weekend hiking in the mountains and exploring the desert at its borders. The city also boasts cheap accommodation and the cost of living is incredibly low. By applying the concept of geoarbitrage in Mexico, your income will surely allow you to lead a good life and put more money in what you love.
Canada: Many self-employed individuals gravitate towards Canada in search of a high quality of life. If your eyes are set on the best countries to work freelance, you can follow the example of the many freelancers who head to Canada for a relaxed attitude to business makes and enjoyable ventures. Although the cost of living is considerably higher than Thailand and Mexico, you will be working less hours and benefiting from a better quality of life. [

Canada is one of the best countries to work freelance
Hong Kong: From a translator's perspective, Hong Kong seems to be one of the best countries to work freelance. This highly developed territory boasts low income tax rates and high internet speeds. The country's entrepreneurial spirit gives translators many opportunities to build a dynamic freelance translation career thanks to the huge number of potential business contacts.
Conclusions
The most important part of working as a freelance translator is being aware of your skill set. It does not matter what country you live in, all you need to do is believe in yourself and have a can-do attitude so you can successfully market yourself to your potential clients.