It may seem a little odd, but many translation companies suffer the same problem when it comes to finding new clients, which is the very problem clients are affected by, too. What is it? They all look very similar. The marketing strategies of most translation companies tend to align in a way that is pretty stereotypical:
good rates;
they are fast and always adhere to the most demanding deadlines;
always strive to provide the highest quality translation;
great customer satisfaction;
they translate to hundreds of languages;
(sometimes) they have amazing technology
No wonder clients find it hard to decide among them and cost often becomes a deciding issue. Choosing the right translation company is not only hard for clients, but also for hundreds of translation companies themselves that cannot figure out a way to stand out from the crowd. Translation buyers take note: as it happens in any industry, the best way to determine the quality of your interlocutor or potential translation vendor depends on the quality of the questions they ask before starting on your current project. That is why we are releasing a little in-house secret, our "Translation Questions For Companies Before Starting A Project" to take away any uncertainty before betting any money on a translation service.
The best way to determine the quality of your interlocutor depends on the quality of the translation questions they ask before starting on your current project.
We would like to offer a short checklist if you are about to hire translation professionals. It should be a given that they will check credentials, ask for translation tests and proof all the work before releasing it to publication. Apart from that, any good translation company ought to ask you these standard questions.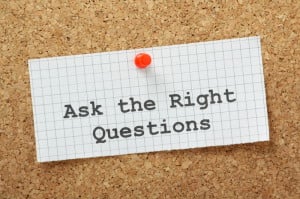 Do you need a non-disclosure agreement (NDA) because the documents are confidential?
What is the file format .DOCX, .PDF, a website, InDesign? Do you require the exact same format to be returned? If you want to translate a website, the strategy is rather different.
Are you aware that desktop publishing (DTP) is an additional job as the length of the target language may differ from the original source language?
Should we translate the text in illustrations or graphics? Should these illustrations or graphics be edited using editing software or translated in a separate line or file?
Who is the intended target? This can affect the tone, degree of familiarity, technical approach or younger talk, sex, gender, age and even education level.
Do you have native speakers in your organization who will proofread the translation or adapt it to a specific market or audience?
Are the materials you want to translate internal documentation (higher deadline priority)? Do you assume that meeting the deadline is more important than 100% linguistic correctness?
Does the current project need to be consistent with previously translated projects in terms of style and terminology? Will it be the basis of works that may need to be translated later?
Do you know of any terms that should remain in the original language or have a specific translation because they are product brand names or must be avoided due to legal implications, copyright issues, etc.?
Do you, as a client, have your own glossary, containing a list of preferred terms?
If you have used any translation company in the past, do you have a translation memory (TM), of the previous translations?
Will you have a single point of contact at your organization? Is that person familiar with the translation process? Do you have a system for incoming data or are you prepared to use our own translation management system? Can your contact point provide samples or reference material?
Do you want to receive a translation memory once the project is completed? This will allow you to save money and re-use your content in future translations to improve consistency as well.
If time is essential, do you agree with several translators working simultaneously on your translation project and a final proofreader verifying the text at the final stage?
What issues did they have with any previous translation companies (if applicable), and how can you best meet their needs to avoid these conflicts?