When is it the best time to translate a company's website, news, documents, reports, press releases? Well, looking at expert business advice, the time is NOW. But, why aren't all companies doing it? The availability of fast translation services is no longer an issue. It is also possible to obtain professional translations quickly and use them to communicate with audiences beyond our traditional markets. So why is not everyone doing it? It seems that, many times, it is us who place limits on what we can or cannot do, on what we are capable of. And that also limits our company's growth. Sometimes, WE are our greatest obstacle to getting word out about our company or product to new markets. Never forget that a professional translation service is essential, for example, to boost your company's presence on the internet and beyond. And the more languages you publish, the more content about your products and services. So, any responsible company should be doing it! [caption id="attachment_1769" align="alignright" width="300"]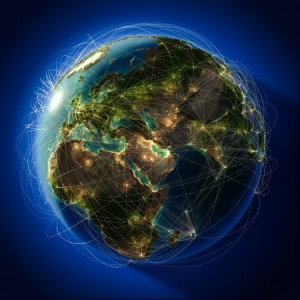 Website translation by Pangeanic[/caption] A good translation strategy can truly increase your web presence. Do this simple check: - Do a Google search on your company. - You should see your company website, as well as articles about your company, pictures and videos you have published, and reviews and documentation by third parties, press releases, etc. Now imagine somebody else does the same search but from another location and in another language - for example in German, Spanish, Japanese, French or Portuguese. Nothing will come up in their languages. Usually, they will only see results in the main language if you have just searched the company name. Think how many more readers you could reach if you published in several languages now that it is the best time to translate a company's website. You could position your company, your products, information about your milestones and achievements closer to potential users. You would increase your website ranking and visibility quickly by building quality links that you control, improving your SEO ranking in the process. Search the number of visits you are getting today in your website's main language and multiply it by the number of languages you publish your website in. Isn't it beginning to look like something you should be doing? So, get started today – It's EASY
Select a page from your company website that best represents your company.
Select a list of keywords.
Get quotes to translate your company website into 5 target languages. This does not cost any money and will help you to compare the different levels of translation services.
Get your website translated. A good translation company will also take care of of your site's publication process, if required.
Add the translated pages to your website following a multisite or multilingual strategy.
Have the keywords and more importantly, keyword phrases in each language added to your website title tags and meta descriptions (this is the description we see on the internet about a page on the browser before clicking on the link. It is also what a search engine like Google sees when it "crawls" your website).
You have just created a sort of internet level explosion of links into search engines. More importantly, you are now reaching readers you didn't even know were there before!!