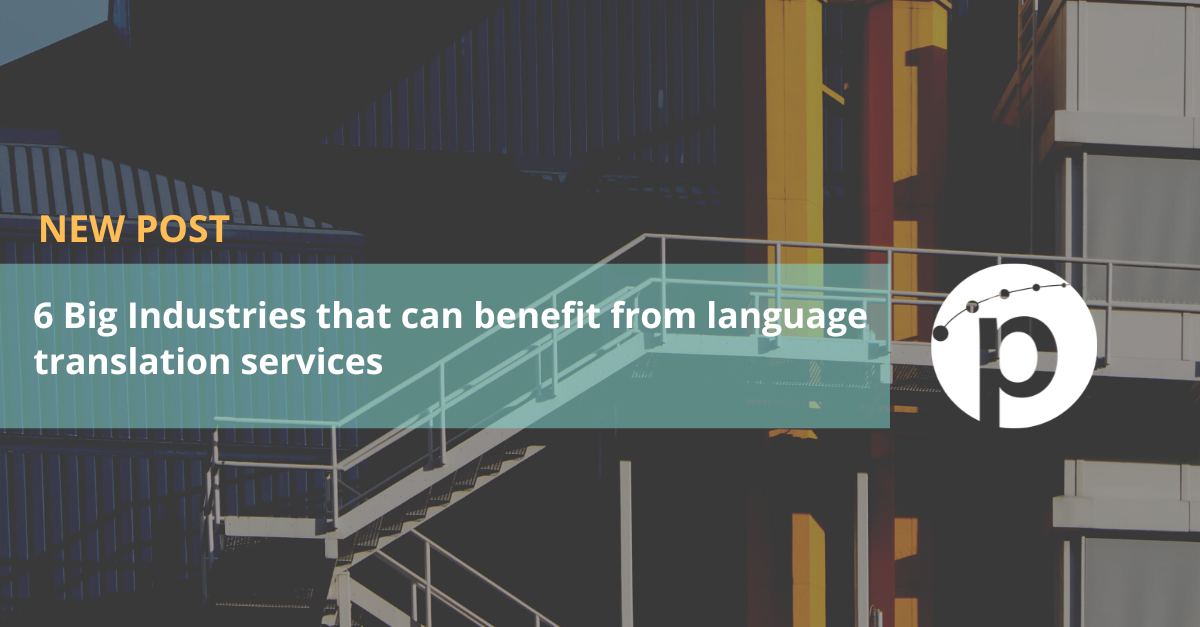 4 min read
04/11/2014
6 Big Industries that can benefit from language translation services
2015: we have been living in a digital age for a couple of decades now. We are dwelling in a world where major cities of the world have turned into global communities. People from several countries living or visiting the same geographic area are a part of global communities interacting with each other. Sometimes, communication or interaction becomes a major problem for people to lead their routine life without hassle. Here, translation services can help them to make their life easy. The top essential industries that mainly make products and services more accessible and useful to their customers should use language translation services to make their products and services more familiar to their customers. There are many big industries that can benefit from language translation services. Let's discuss here the top 5 industries that can benefit from language translation services.
Life science and Medicine is an industry where translation and interpretation is a real help.
Accurate translation of doctor manuals, medical records, patient records, leaflets, medical reports, instructions and prescription information really help healthcare companies to provide world class information. Pharmaceutical companies that want to expand their business internationally find translation services quite helpful. They can convert all their communication materials in the language of the country that they want to target. Life science, medicine and pharmaceutical industries can benefit a lot from these services provided they choose an expert vendor to do the translation job.
Translations for Finance and Banking
Finance and Banking sector play a vital role in global trading environment. In order to attain new customers in foreign countries and achieve high level of consistency, banking and financial service use translation services to make their communication clear and effective. This helps them to strengthen relationships and trust with the potential clients. Accurate translation of financial documents, forms and transactions help them to meet the expectations of their clients and customers easily.
Translations for Information & Technology
Information & Technology industry is on boom these days. The companies in this sector manage several projects globally on a regular basis. Organizations working in this sector need the services of translation for translating their technical documents in different languages so that they can cater to customers globally. It is not that easy to translate technical documents without having proper technical translation expertise. So, the companies operating in this sector take help of translation services to create versions of their documents.
Translations for Travel & Tourism
Travel & Tourism have seen a good rise in their revenue generation with the help of translation services. They allow them to provide services in several different languages. Translation services have allowed them to provide information in several different languages. Businesses operating in this sector translate their travel documents, leaflets, brochures and terms and condition documents in many languages to offer exceptional services to their foreign customers.
Legal industry also benefits a lot from translation services. If you are working with a global client and want to understand the proposal or any other legal information in your local language, you can take help of translation services. They will help you with accurate translation. This will further help you in understanding everything pertaining to legal matters.
There are many more industries that can benefit from translation services. These services help them propel in the international market.
Website translation services for global exposure and credibility
Undoubtedly this is one of the growth areas for translation in the 21st century. Think about it: When you will have a massive traffic on your website? As a stable online business, your answer will be - When visitors are able to get the information they are searching for on your website. You are absolutely right here. Your potential visitors will stay on your website only when the content is engaging, and is available in lucid, readable language. Your website content should be in the specific language of the target market you are focusing. You need to globalize your website by making your content available to millions of visitors worldwide. What can help you in doing so are professional website translation services.
Today when more than 80% people use the Internet to search information, products, services, movies, connections and for making a purchase, it is important for you to get your website content translated in the local languages of countries you want to target. The main advantages of website translation include increase in marketability, enhanced website traffic, more conversions and helping your business to take advantage of rapidly growing global market.
Translation services are a great help if you are trading globally. It will allow you to reach global market beyond your expectations in terms broader audience, increased sales and huge profits. The services will heighten your business to true international heights.
Before you hire translation services, you should make sure you are specific about your needs. You should begin with a market research. You should make a list of countries you want to target. For example, if you want to target China and France, you need to get your website content translated into Chinese and French. If you are in search of target countries, you need to check out what languages are spoken in those countries. You should get all the web pages translated so that you are providing every information that the visitors are looking for.
Whatever type of business you are running; website translation will boost your online visibility. Not only your products and services will hit the global stage, your business will also see endless possibilities of growth.
Nevertheless website translation services is a boon for businesses that want to perform well on global platform, but at the same time it is also important that professional translation services are chosen. A professional service provider offering these services can only meet up to the expectations.
How you will identify whether the translation vendor you have located is ideal for your business or not? Very simple! A little bit of research can help you in locating a professional company. A professional translation company will have a team of knowledgeable and experienced translators who will understand your business motives. You need to search this kind of vendor. The Internet too will help you in locating a professional company. Several translation companies have online presence with great interactive websites. You can take help of these websites to find out whether the vendors you have shortlisted are professional or not.
So, make sure you do proper research before hiring website translation services. This will benefit your business.
There are more than one billion live websites online. They are mostly monolingual, although translations are becoming increasingly important. There...
Read More