2021 was a very special and productive year for Pangeanic, as we were able to put in place a series of events that helped us to reinforce the company's values

, strengthen our brand and make important advances towards our goals and corporate mission:

combining artificial intelligence with human talent

in order to provide

language and data management solutions

in a

scalable

way.
2021: A year of improvement, scalability and increasingly human technology
Pangeanic's efforts during 2021

were fundamentally focused on

implementing more agile, flexible and useful internal tools

for all employees, collaborators and customers. The latter have benefited from comprehensive services such as document publishing and translation, language content processing and knowledge management.

Throughout the year, we have been working very hard on a strategy based on

scalability

and

combining the latest technology

(especially

Artificial Intelligence

) with

human talent

to

surpass our achievements

and attain, together with our customers,

increasingly ambitious, effective and cost-efficient goals

.

Our line of work is characterized by having, at all times,

a collaborative and complementary approach

,

since our idea is to

combine talent

,

effort and resources.

To achieve our objectives, we develop

automated tools at the service of human logic and creativity

, which we consider to be totally irreplaceable.
What was 2021 like at Pangeanic?
For Pangeanic,

2021 was a different year

, in which we put all our efforts towards

trying to get back to normal

. To do this, we had to

reorganize departments and focus even more on new technologies

. Nevertheless, the effort bore fruit in the form of

optimal results for our company

and

great prospects for 2022

, which we perceive as a promising year full of projects and possibilities.

To face 2021 in the best possible way,

we were backed by a series of events, actions and projects

that help us to continue growing and become a leading company in our sector. In this post we want to share with you what these actions were, in what they consisted and what they have meant for Pangeanic.
A year of expansion and growth
During 2021, Pangeanic achieved

growth and expansion

at all levels: more clients in more countries, expansion of human resources, greater corporate and brand visibility, etc. To achieve this, we launched an

ambitious and well-elaborated strategy based on the following pillars

:

We

completely renewed Pangeanic's corporate image

with a logo

update

and improvements to the graphic line. But that's not all we did:

we strengthened our communication with customers

by adding more diffusion channels, and we invested

heavily in events

.

The result of all of this is the achievement of a

more mature and better positioned brand image

.
Team growth and expansion
At Pangeanic, we are convinced that
our most valuable resource is our human team
. We are very interested in having the best talent and making them feel comfortable in our company. For this reason, we are committed to the
work-life balance and remote working
.
Our growth has been developing in parallel with a significant
expansion of the workforce
, forming a
unique, talented and multicultural team
.
In 2021, Pangeanic managed
to break into the complex machine translation market in Japan
, one of the leading countries in technology. Our strategy for strengthening Pangeanic's presence in Japan was in the
takeover of BI Japan
, one of the most renowned translation companies in the world, where our CEO, Manuel Herranz, worked for 7 years, from 1998 to 2005.
LocWordWide 45 attendance
We participated in
LocWorldWide 45
, the
leading international business, translation, localization and global website management conference
. And we did so with a grand entrance, giving a presentation on the exciting and
complex challenge of translating Asian languages
by Amando Estela, CTO at Pangeanic and an expert in digital infrastructures.
Customer service implementation
The culmination of Pangeanic's expansion and growth project for 2021 was the
implementation of a new customer service system
by Eduardo González. A department that aims to provide the best experience to our customers, solving any questions or problems as soon as possible and giving advice on all the possibilities provided by our services.
A year of events and digital presence
Events

played an important role in

Pangeanic's 2021 agenda

. We actively participated in many of them, introducing our services and giving presentations on high-interest matters:

Hand in hand with its partner Turistec, Pangeanic presented

the

latest developments in language technology and machine translation

at this very important international showcase of tourism proposals. Special emphasis was put on underlining the accuracy and usefulness of these tools in the tourism sector when it comes to

facilitating interaction with customers

and entering into a greater number of international markets.

We shared

experiences

from the tourism sector, as well as our

Natural Language Processing (NLP) Know-How

and other

innovative language technology solutions

from other key events in the international tourism sector.

We didn't miss the opportunity to

participate in one of the most important technology events, the Mobile World Congress Barcelona

, where we

presented our ECO Platform

for NLP services. This platform allows the user to configure

advanced Artificial Intelligence services

: deep adaptive machine translation, anonymization and e-discovery, and entity recognition, among others.

Pangeanic also participated in the

most important international summit on machine translation

,

AMTA MT SUMMIT 2021

, where researchers, developers and experts discussed advances in more than 20 different MT technologies.

At this prestigious online event, we

delved into the operations and possibilities of Artificial Intelligence

applied to language processing services.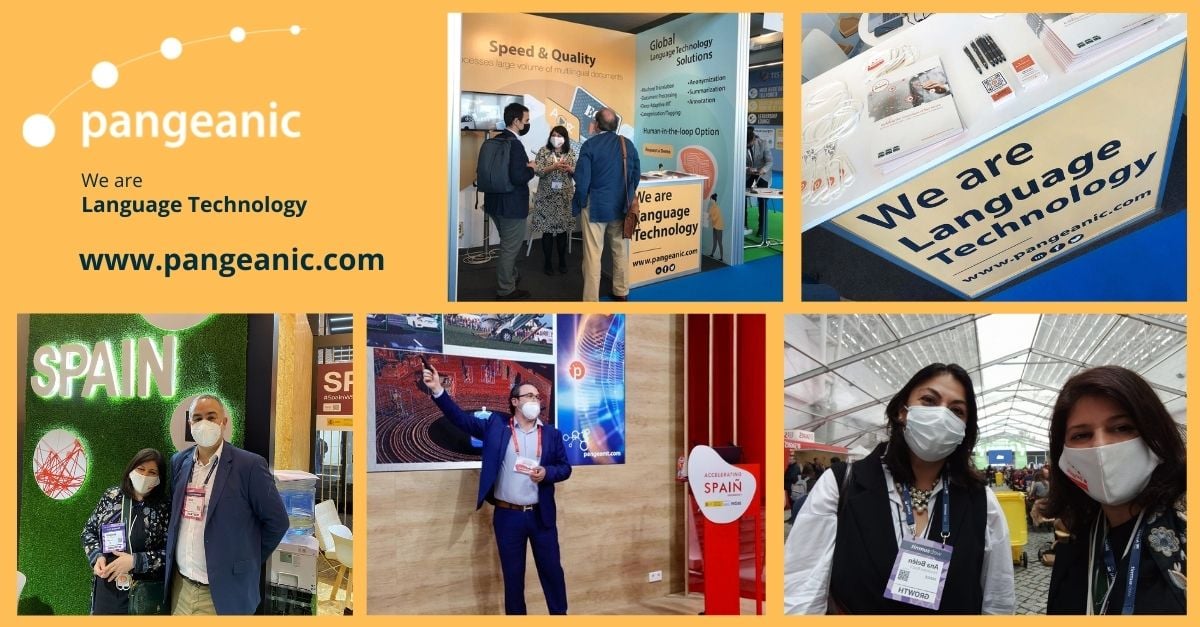 A year of great projects
In addition to participating in distinguished events, throughout 2021
we materialized several important projects
that have served to further strengthen our company's prestige:
ISO 27001 - Information Security
We are now
part of the select and small group of companies
in the field of language technology and translation services that have the
ISO27001 certificate in Information Security
, including remote work operations.
The
machine translation tool
developed by Pangeanic was selected to be used in the prestigious
multilingual European project
Europeana Translate
. We will also be responsible for
processing, preserving and distributing the Jewish heritage archives integrated in the platform known as J-Ark
. Another of our great achievements is
leading the
NTEU project
, which deals with compiling and reusing several European CEF projects in order to create high quality machine translation engines.
Advances in technological development: the launch of ECO v2 with anonymization
The year 2021 will go down in the history of the company as a
key year in Pangeanic's timeline of major events
, with the launch of the
second version of its NLP platform, ECO
.
This update was made to include services for
multilingual anonymization,
an essential matter nowadays in order to comply with EU and US data protection requirements.
Milestones and successes
All the efforts, day-to-day work, events we participated in and projects we launched have been
rewarded with a series of international awards, accomplished goals and successes
:
Our team's thoughts: Pangeanic's growth in 2021 through their experiences
Pangeanic's

spectacular improvements and growth in 2021 were especially intense for the company's sales and marketing department.

According to

Virginia Virino

, the current

Commercial Marketing Director

, the main challenge was "

adapting to the new range of customers

, who are increasingly dependent on technology for their growth." A challenge that our company was able to face and from which it has emerged even stronger, thanks to the fact that "

we have implemented new internal tools

that result in improvements all around. We are now more agile, more flexible and more active when it comes to our customer service."

For Virino, Pangeanic's main achievement in 2021 was "the creation of a specific Customer Service department

, meaning that, together with our Tech team, PMs and the technology division, we are creating a strong service and support structure around the anticipated demand for 2022."

María Bodi, HR Manager,

summarizes what 2021 has brought from the point of view of human capital management: "It's been a different year, a kind of

back to normal, but not to the normality we were used to

. We have had to reinvent ourselves, to create, and above all to believe and grow."
What will 2022 bring?
Everything points to the fact that in 2022, Pangeanic will continue its development, expansion and growth, both in terms of the countries in which it will operate, as well as the customers and services provided. Our expansion plans will be strongly marked by:
The

growth of the Pangeanic structure

, especially in the technology division: new departments, new tasks and functions, new roles in the company, etc.

Reinforced plugin integrations and new activities, tools and functionalities

, thanks to partnerships with other companies.

Greater service diversity

: integrating the data segment and opening new business channels through digital marketing, especially through automated subscriptions.

Focus on companies that demand new language technology solutions

, especially for congresses and all kinds of events in sectors such as: information technology, e-commerce, logistics, tourism, food industry, etc.
In short, 2022 will be a year in which, on the one hand,
our company will reinforce its applied artificial intelligence services
and, on the other hand, we are planning to launch
innovative solutions related to language technology
and data analysis
with special emphasis on anonymization and scalability.
We're proud to present PangeaMT, the company's technology division and innovation hub driving Pangeanic's language processing solutions. PangeaMT is...
Read More